Dormitory. Non-academic
Students offer 1, 2, 3, 4 and 5 bed rooms with bunk beds and single.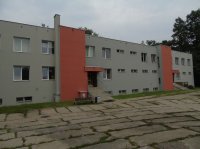 Each room is equipped and has:
equipped with beds (mattress, bed linen)
cabinets, desks,
lighting and lamps for reading and working,
a fully equipped bathroom,

for convenience - kettle and fridge. Each floor has a communal open-plan kitchen.

In the building we have one floor of group of rooms and shared bathrooms.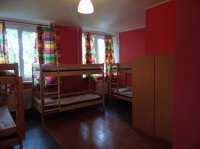 It features: lift,
Pay laundry and drying room,
Wi-Fi,
Internet TV,
common room with a television, screen and projector,
room for quiet study.

The buildings are safe - are protected. They are equipped with fire alarms and fire extinguishers. You can enjoy the grounds and play ball in the nearby schools.

For those moving bikes have a safe place to store them. We have big car park also.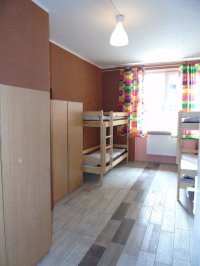 We guarantee a pleasant atmosphere and safety.

The dorm is inhabited by international students for the whole world. This gives a unique opportunity to have practice with polish language and establish an interesting relationship with people living around.